Mission trip day 2
Today was a really good day. We got up early and headed to the clinic. We had three Mexican doctors show up so we had 7 doctors total and before lunch we only saw 12 patients. It was kind of slow.
After lunch (bologna, pasta and avocado samitas) we saw a lot more... We ended the day seeing 59 patients and each one heard about Jesus. The other clinic saw 179 patients. God is good. We are hoping for an even larger turn out tomorrow.
Tonight we went to dinner at Tonys tacos. It was good (last night was still better tacos though). We had our bible study time and are in for a fairly early bedtime tonight. I took some pictures on my iPad today to share, the quality isn't great but you can at least where we are..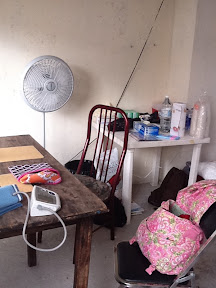 Inside the nurses station before we had to move it outside...
Me posing at the nurses station window...
My mom in her exam room...
The entry to our clinic/the waiting room... Notice the tent ceiling and it has been raining....
Banana tree growing outside of the church we are working with... There are also lime tree and pomegranate trees... Seriously like the garden of Eden.
God is good. I am looking very much forward to tomorrow. Missing my baby and hubby but know they're safe and sound. Excited to see what tomorrow holds.
Peace out from Puebla, Mexico.
- Posted using BlogPress from my iPad
Location:Atlixco, Mx